Hubert, deer god of the intoxicated
| September 5, 2009
Hubert is a strange and benevolent deer god who watches over the supremely intoxicated. He has wide fawn-like eyes, but his gaze is human – warm and empathetic.
As with all gods during the modern era, Hubert does not intervene in the normal course of life's events. He is an observant god. If a person is three sheets to the wind, he will not keep a car from striking them and crippling their legs. If a person is high on drugs in a parking lot, he will not prevent a pack of youths from attacking them. He is only their witness. And the wasted, often crippled and hobbling, may come to Hubert and he will keep them warm, and watch over them.
His face is on the wall in the shelter's Intox room, way up high almost touching the ceiling. It is a deer head printed in colour on some kind of card stock. I couldn't reach it to take it down even if I wanted to, which I don't.  It's the right size to be a mask but it has no holes to see out of. It's conceivable it might have once been a Christmas decoration, but there's nothing Christmassy about him. Hubert has no antlers, and his face is shaped in such a way – narrow cheek bones, slender chin – that he looks on the verge of becoming humanoid, hence my thought it might be a mask. His gaze is set straight ahead, but wide enough that he's looking over the whole room. Although the image is cut off at the neck, you can also see the tops of what must be a checkered red and white collared shirt Hubert presumably wears.
As I work in Intox, I look up at the deer face and ponder its creepiness. Intox can already get creepy enough. The lights are off for people to sleep, so only a pallid beige light glows out from the office. Ghosts of people stagger in, some emaciated, some bloated. Some have their faces beaten beyond recognition, like big purple plums with red eyes. Many people are trying to drink themselves to death and their mind has already departed but their bodies are still breathing on the rows of vinyl mats on the cement floor. Flies and bugs flit around. A pipe in the ceiling is dripping down the back wall. And, perfectly, Hubert's inexplicable deer head is at the front wall, with his big shiny black eyes and teenage face looking out.
Nobody has ever so much as even mentioned the deer head, which only forces me to draw my own conclusions.
Here is what I've decided. Hubert the deer has been created by the Universe to help intoxicated people exist since the 7th Century. It works like this. Consciousness has a way of, well, nodding off, especially for drunks and drug addicts, but society's collective consciousness falls away too from time to time. The Universe, though, needs to keep consciousness afloat in order to exist as it does and will create conditions to make sure we're on the same temporal page as the Universe. It observes us as we observe it and this is how everything is formed, as opposed to everything being some non-mathematical abstracts in some alternate dimension or parallel universe.
It was in the 7th Century when consciousness was in such dire straights that the Universe needed to create Hubert. People were dozier and sedate, or wearied by the worldly troubles of the day. People had less bounce in their step, fewer jokes were told, puzzles went unsolved, the open sky was less inspiring, and the Universe shrank a tiny, little bit (about a billion light years). So the Universe sent down an entity to deliver a proverbial kick in the pants and it took the form of a deer. A pagan named Hubert was out hunting in the woods. His mind was distant because his wife died while giving birth to their son. The great cosmic deer emerged from the woods with a glowing cross between its antlers and the voice of Jesus told Hubert to seek God via the bishop Lambert or else he would burn in hell. (Oh it was a simpler time back then and the gods had to get more involved, and had to give cruder ultimatums). Hubert immediately ran to see Lambert. He studied under him, and eventually became a bishop himself. He distributed his personal belongings and the episcopal revenues among the poor, converted lots of pagans, and was a much loved and respected bishop. He is now referred to as St. Hubert, patron saint of, among lots of things, hunting, optics, and mathematicians.
You will also likely remember this story's cosmic deer from the side of the Jagermeister bottle. The cosmic deer on the bottle accompanies Otto von Riesenthal's poem, which roughly translates to: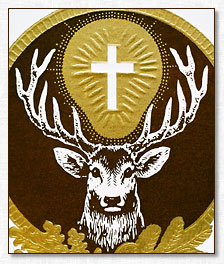 This is the hunter's badge of honour
That he protect and nourish his game
Hunt sportingly, as is proper
And honor the Creator in creation.
The gods no longer seek to determine the outcomes of people's lives. We've grown in our relationship with the Universe since then. St. Hubert continues to care for the poor, especially the intoxicated poor, and appears as a deer when he comes to watch over them. Those who get totally fucked up do so to black out, to lose all consciousness. Their minds are too distant to connect with the Universe, and so Hubert comes to observe them, to be witness, only so they might exist as they do in this Universe.
As he looks out from the wall at the front of the Intox room, he sings this song:
Take Care of All of My Children – mp3
UPDATE Sept.12 2009 – Hubert is a coat hanger! The fire marshall did an inspection of the building and didn't like Hubert hanging at the top of the folding wall divider. Hubert was taken down whereupon I realized he's a really creepy looking coat hanger. Hubert is now in the security booth.
---